Bullard Havens Auto Grad and D'Addario Mentor Recognized by ASE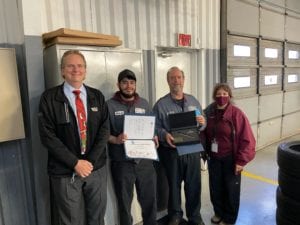 Bullard Havens Automotive 2020 graduate and long time D'Addario mentor and technician recognized by ASE for roles and success in ASE BHT auto training program completion.
D'Addario Buick, Cadillac, GMC WBL graduate Arlindo Pereira received a certificate of ASE WBL program completion and master technician, Chris Amiot, was also recognized today by ASE with a letter and medallion for his role in supporting and mentoring Bullard -Havens Automotive Work Based Learning students for over 20 years.
Mrs. Amiot, BHT Auto Department Head, presented Mr. Amiot with his recognition, while BHT automotive graduate, now full time technician, Arlindo and Service Director, Dan Schnaufer (also a CTECS graduate) look on.
The over 20 year partnership between D'Addario Auto Group and Bullard-Havens continues to work to build the automotive technicians of the future.