Contact: Roxanne Amiot
CTECS Automotive Instructor/Department Head
Roxanne.Amiot@ct.gov
203-581-0882
Each student is required to complete four years of a Career Technical Education program. To learn more about  Connecticut Technical Education and Career System's Automotive Technology course breakdown by grade, please visit our  district website.
Automotive Technology Uniform Information
Featured Auto News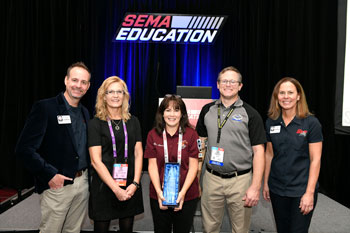 Connecticut High School Instructor Roxanne Amiot Named 2019 SEMA-NACAT Award Winner. Read the full story!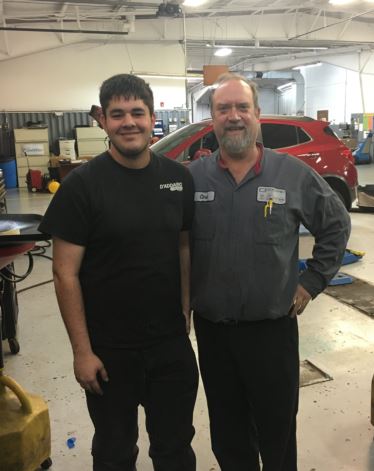 Arlindo Pereira is a 12th grade Automotive student that is doing Work-Based Learning at D'Addario Buick, Cadillac, GMC in Shelton, CT with mentor Chris Amiot. Arlindo previously completed a voluntary position internship at State Police Barracks Troop G Fleet garage under Chris Strong. Instructor Mrs. Amiot is very proud of the growth seen in Arlindo. "Business partnerships, especially long term ones like with D'Addario Auto Group, help build our students as well as help us grow new techs for industry," Amiot said.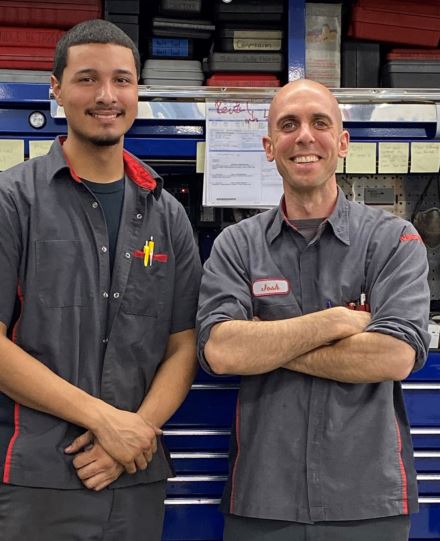 Bullard-Havens Auto Senior Kevin Delgado (left) is posing with his mentor Josh Russo at his Work-Based Learning (WBL) job at George Harte Nissan in West Haven, CT. Kevin has been on WBL since his junior year and enjoys it. His instructor Mrs. Amiot is proud of him and Josh Russo, her former student and a graduate of the Platt Tech auto program. "There is nothing better than a graduate using the skilled trade they were taught at our schools, being successfully employed and then returning to help mentor other students and giving it back," said Amiot. Way to go guys and way to go CTECS!
Auto News
Shop Experiences
Program Partners
Audi of Fairfield
AAA Northeast
BMW of North Haven
Curtiss Ryan Honda of Shelton
D' Addario Nissan
D'Addario GMC Buick Cadillac of Shelton
Fair Auto Napa of Bridgeport
Federal Mogul
Gateway Community College Automotive Technology
George Harte Nissan of West Haven
Jaguar Land Rover of Fairfield
Mercedes Benz of Fairfield
Paul Miller Nissan of Fairfield
Park City Ford of Bridgeport
Penfield Auto of Fairfield
Porsche of Fairfield (Penske)
Town Fair Tires Hawley Lane