WORK BASED LEARNING – FCP Euro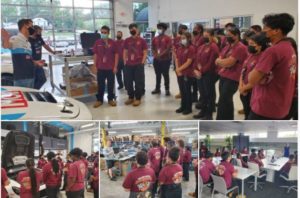 Over the last few months, the FCP Euro Corporate Social Responsibility team has built valuable relationships with local technical high schools. Most notably, Bullard-Havens Tech School in Bridgeport, CT – a school that has brought some incredible local talent to the FCP Euro workforce.
Over the last two months, we've had two visits with 10-12th grade students so they can see what FCP Euro is all about and realize the breadth of opportunities in this industry.
From here, we encourage the students to write a cover letter & resume for us to review to set up a potential 1-day job shadowing. The enthusiasm we've seen so far has been spectacular. We can't wait to have students from other schools visit soon as we work on a further partnership with the CTECS (CT Technical Education & Careers Systems) organization!