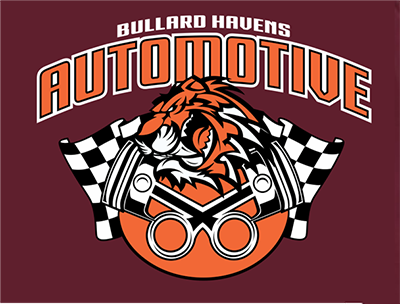 This is Roxanne Amiot reaching out from the CTECS Bullard-Havens THS Automotive Program. I am looking to reach my auto graduates , or their parent/guardian to take a few moments to take our survey that will help shape the program for current and future students. All eligible program graduates will receive a gift card for their completion of the survey and can receive an additional gift card for assisting us in connecting with other past program graduates! Below is the link to our survey: https://forms.gle/GMpTUZU1tpd4i7Tk6 .
Please let me know if you have any questions or can assist in connecting us with other students. We appreciate your time in helping us better our program!
Thank you,
Roxanne Amiot
Automotive Department head
Roxanne.amiot@cttech.org
"The reason I chose automotive as my shop and career is because I just enjoy the hands-on work. I've learned a ton like how a car works and runs, all the different parts to it and their meaning. This shop also gave me a job, an opportunity to work in the field to pursue it."
"The auto shop has pushed me to be more social with others and taught me how to work better with partners."
"Why I liked auto was the discipline and teamwork that was brought into the auto shop. We really felt like a family."
"The automotive shop has taught me the skills of being an automotive technician and an idea of how an automotive shop is run. From the automotive shop I've learned basic tools, electrical systems, steering and suspension and brake systems. I got a job at Napa Auto Parts recommended by Mrs. Amiot and I'm now making $15 an hour while helping other automotive shops with parts and tools for their businesses."
"The automotive shop, Mrs. Amiot and Mr. Samson, is something I appreciate so much. It has helped learn so many new things about the automotive industry"
"The automotive shop at Bullard Havens Technical School has taught me useful lessons on auto safety inspections, brake repairs and maintenance auto repair. These skills will help me to take care of my own car and work on customers cars in the future."
"Why I like my Auto shop? It taught me many things and skills that I can use in the future and now. I've used many fundamentals from shop out of school in the past few months. Auto has definitely benefited me and I will continue to learn more as an advantage to my future."
INSTRUCTORS
Diaz-Santana, Jonathan
Instructor, Automotive Technology
(203) 579-6333 x6592
UNIFORMS
PROGRAM DESCRIPTION
Each student is required to complete four years of a Career Technical Education program. To learn more about  Connecticut Technical Education and Career System's Automotive Technology course breakdown by grade, please visit our district website.
AUTOMOTIVE NEWS
Bullard Havens Automotive 2020 graduate and long time D'Addario mentor and technician recognized by ASE for roles and success [...]
Paul Miller Service Manager, Gregg Catandella, was recognized today by ASE with a letter and medallion [...]
Bullard-Havens Automotive senior, Isaiah Diaz has started his Work Based Learning automotive apprenticeship under his mentor technician Zach [...]
A teacher who was the first woman to graduate from Bullard-Havens Technical High School in auto shop is now [...]
Arlindo Pereira is a 12th grade Automotive student that is doing Work-Based Learning at D'Addario Buick, Cadillac, GMC in [...]
Bullard-Havens Auto Senior Kevin Delgado (left) is posing with his mentor Josh Russo at his Work-Based Learning (WBL) [...]
Hi – I think you should check out this book, "Success in the Automotive Trade: Career advice for students, parents, educators and experienced technicians (Success in the Skilled Trades)" by Georgian Lussier & Roxanne Amiot
PROGRAM PARTNERS
AAA Northeast
BMW of North Haven
Cannondale Generators of Wilton
Curtiss Ryan Honda of Shelton
D' Addario Nissan
D'Addario GMC Buick Cadillac of Shelton
DEVAN Acura of Norwalk
Fair Auto Napa of Bridgeport
Federal Mogul
Garavel Subaru
Gateway Community College Automotive Technology
George Harte Nissan of West Haven
Jaguar Land Rover of Fairfield
Land Rover of North Haven
Paul Miller Nissan of Fairfield
Penfield Auto of Fairfield
Town Fair Tires Hawley Lane